Bradford pear trees have become a popular addition to the urban landscape. Although the Bradford pear is a hardy tree consistently producing showy flowers in the spring and some fall color, the tree is not without its fair share of problems. The trees have a relatively short life span due to structural integrity issues, they are susceptible to a few disease issues and they can be overbearing on landscapes with limited space.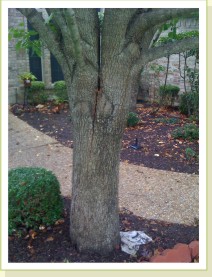 The average life expectancy of a Bradford pear is about 15 years. While the tree is capable of producing viable foliage for more than 15 years, this is typically how long the tree will last before it begins to fall apart. The numerous branches that originate at a central point cause structural defects that lead to the splitting apart of the tree (see pic). Pruning the tree to promote more upright growth and installing cables and braces to support weak joints can add to the life of the tree. In some cases, with regular maintenance and inspections, a bradford pear may last 20 or even 25 years.
For the most part, Bradford pears are highly resistant to disease and insects. There aren't any know major insect problems and only two disease that commonly get into Bradford pears: fire blight and bacterial leaf scorch.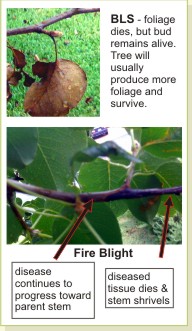 Both diseases are treatable. Fire blight needs to be caught early to prevent significant damage. In fire blight the disease starts at twig ends and progresses back toward the main stem. The dead foliage will be a very dark brown and remain attached to the tree. In bacterial leaf scorch the leaves will turn a light color brown and fall from the tree similarly to normal leaf drop.
Bradford pears can be a good landscape plant if you are looking for a temporary (short lived) tree and there is adequate room for growth (need minimum of 10-15′ in all directions). In small spaces the pear can be overbearing as they grow very quickly and block virtually all sun when full grown. They also produce large amounts of surface roots so they shouldn't be planted where lawn/soil surface needs to be smooth such as high traffic areas or near concrete patios that may be broken by the tree roots.