What is the best fast growing shade tree to plant in Austin? Here is my answer: red oak. There are several factors that must be considered, and there are special precautions you need to take. No tree is fool proof.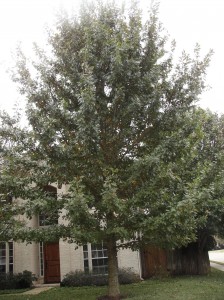 The general trade off for fast growing trees is that they are shorter lived and require more maintenance, but you get shade faster. And, typically, slower growing trees live longer and tend to require less maintenance in a typical urban landscape. The red oak is a good balance. This tree has a rapid growth rate, 3-4 feet per year, and has a solid wood you would expect from an oak which makes them less prone to limb failure during storms. The norm for fast growing trees is that they have weak wood that require regular canopy thinning to reduce the likelihood of limb failure. Red oaks require very minimal pruning throughout their life, comparatively.
You do need to pay special attention to red oaks during the first few years after planting your new red oak. These trees are especially susceptible to transplant shock. Keep in mind that they have spent the first few years of their life in a tree farm that has maintained perfect growing conditions to grow trees fast. So your tree has just been relocated from a tree utopia to the virtual desert that is your yard. It is important to water and fertilize your tree properly during the first 1-3 years (read our fertilizer blogs).
Get past the first few years and you will have a fast growing shade tree that will grace your neighborhood for 75 years or more. In as little as 6 years you will have a tree that really looks like a tree, not just a stick in your yard.